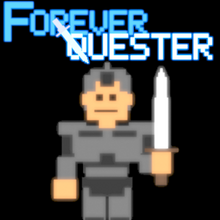 Forever Quester is a game developed and published by Scott Cawthon in 2013.
Description
Edit
The game's description on Google Play Store and AppStore.
Forever Quester is your quest companion, playing the rpg that you just don't have the time to play while you're living your own busy life. When you turn your phone on later and check the game, your hero will update you on what you've missed. Help him choose weapons, armors, mounts and professions, then check back often to see how he's progressing! Guide him as he seeks out the evil Xaxoor on a quest that could very well go on forever!
The unlimited version has no level cap!
==Is there an end to the game <nowiki/== Most likely not.